Just wanted to let you know that we had a good trip home (Lily is an awesome traveler) and she is doing really well. It was obvious the first two days that she really missed her siblings and you guys, but now very bonded to me. She follows me everywhere!  A bit of separation anxiety when she can't see me, but we'll work on that later. Right now I just feel good that she knows she is safe and happy in her new home. This morning was the first time my two cats ventured out from hiding and they did some nose to nose contact and checked each other out, so pretty sure they will all get along.

Thank you both so much for nurturing such a great little puppy. She is a little sweetheart and there is no question that her first few weeks with you were good ones.

Take care and I promise to send some photos.

Telluride Colorado (Lilly from the Theo/Brandy litter)

Hi Tina and James,

I wanted to touch base and let you know how Wroofy is doing. He is the BEST DOG ever! He already has made some friends, dogs and humans alike, who love him. He has a fun personality and is quite lively, not to mention very handsome! He is quite the trickster… stealing stuff off our nightstands, or socks from the laundry basket and towels from the oven door and running off with his loot for a lively game of keep-away. He is a character!

He grew fast. I can't believe he weighed only about 6 lbs when we got him! He's now 60 lbs (as of two weeks ago). His coat is very much like Shasta's in color and it's incredibly soft. Sometimes he looks just like his mom… even sits like her all prim and proper with his back legs nicely tucked under him (speaking of the photo of Shasta on the website). Other times, he looks just like Simba like when he gets up on the sand pile during his walk and looks down. It's really fun to see both of them in him.

We have some fields by our house so we take him there to walk him off leash every day. He really enjoys his walks. He also likes to sit out in the front yard just to sniff as the breeze springs up. He loves children and has interrupted more than one softball practice at the nearby park, successfully eluding our attempts to catch him. J  We discovered early on that he loves white fish (salmon, not so much). He also loves bananas, grapefruit, celery, broccoli, coconut milk, apples, treats, Frosty Paws, cashews, brazil nuts, peanuts, and water. Holy cow. He eats anything in sight so we police him pretty well.

Sometimes he does some gardening for us by preparing areas in the garden for future plants, or he will prune the fruit trees and manicure the other plants. He will even trim the lawn one bite at a time. J Seriously, though, we often comment on the fact that even though he is a typical puppy, he really is a good dog. He is relatively calm, even for a puppy, and does not have any kind of anxiety or bad behaviors. He has eaten a few socks, but he has never chewed our furniture or our shoes. He is the best dog ever.

I just wanted you to know we are happy to have found you. We have also passed along your information (website) to our vet who gave it to another client who was looking for a Golden. The vet asked us for your information, so it's not just us being proud dog parents. You have done a fantastic job in breeding your dogs and it shows.

I make sure to tell him how happy I am that God picked him just for us. J

Thanks again!

Jeanne, John  (Demko) and Wroofy Snowshoe

Santa Maria, Ca.

Hello Werner family,

Hope you are all enjoying this holiday season. 

Enclosed are two photos of  Halia who will turn

one December 28, 2014 we thought you would

enjoy. She is a bundle of love and energy and

we are enjoying her so much.  Can't believer

how fast she has grown.  Thank you for breeding

such a beautiful golden with a great disposition.

Halia is a real joy to our family.

Happy Holidays,

The Schulte family/ Westlake Village, Ca.
James & Tina,

 

Molly is so much a part of us.  She goes to our

Big Bear hideaway with us.  The  yard is totally

fenced.  Molly will be two on January 16, 2015. 

Thank you for

our special gift….Molly

 

Jeff and Joanne Fort

Phelan, Ca. 
 Hi James and Tina,  It's been a week already with Hurley and he is doing so well!  Loves his kitty brother as you can see in the photo.  He had his first week check up and passed with flying colors and will get his next set of shots this week.  He has really changed our lives in the last week and added so much happiness to our home.  Everyone he meets loves him and he is just so mellow with just the right amount of spunk
(one year later….)
He is gorgeous. I've never received so many compliments on a golden before. Just the cutest face and softest fur (still!) and everyone just loves him. He loves being the center of attention but he shares it with the now ten month old baby very well. He always wants to be near the baby and now that the baby is feeding himself finger foods, they are the very best of friends!  I so love that they are going to grow up together… We take him everywhere we go ( or at least everywhere that will accept him!) so he's a dog about town quite often. These are some of my favorite pictures of him with the baby and out and about…everyone compliments and asks about him (we have even had people offer to buy him!  He's our family member!) we tell them about you guys and just rave about you. He's some of the best advertising you could ask for!  Thanks again for giving us such a wonderful gift!  
Brian and Courtney Goode/Escondido, Ca.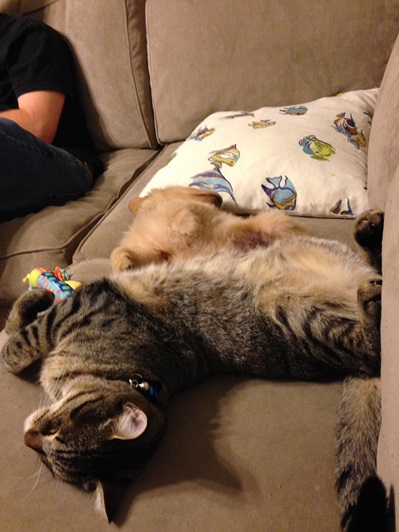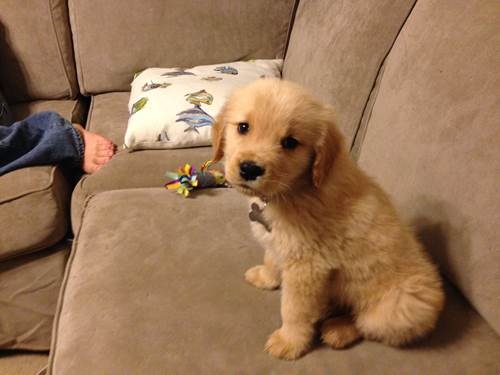 Hi James and family, 

 

I want to give you an update on our beautiful Daisy girl. 

She is such a joy to have.  She is very healthy and happy

dog, who is loved very much.  She gets to travel to any

softball games and beach trips with us.  I want to thank

you  for  allowing us to make her part of our family.

 

Thanks, Cathy Acosta

El Centro, Ca.
Hi James ,

Hope that you and your family are doing well. 

We are absolutely loving Kona.  She is such a sweet

little girl.  We get stopped all the time and told how

beautiful and calm she is.  As you can see from the 

photo she loves her bath time.  I also texted you some

photos over the past few months but I am not sure

if you got them.  Thank you for raising such beautiful

and healthy puppies.  She has brought so much joy

to our son and the rest of the family too!  Take care!

 

Lisa Secard

Chino Hills, Ca.
Hi James!

We celebrated Ryder's first birthday today

and we are  thinking about all of you!  We

have so much fun, so much love, and so much

puppy craziness in the last year!  Living in

San Francisco with Ryder  has been amazing. 

He loves all the parks, beaches, and people

this city has to offer.  Ryder is a butthead at

times, but he is so cute that he can get away

with anything.  He is like the third child in our

family and my two kids are obsessed with him. 

Not only is he super smart, but he actually enjoys

learning new commands and tricks!  His favorite

 foods are watermelons, yogurt,cream cheese,

peanut butter, and cat  food.  He will pretty

much eat anything as long as it isn't a vegetable. 

Ryder is definitely a gentle giant; he has the

warmest heart and the softest black button eyes. 

People always compliment his beauty when we

go for walks and ask where we got him! 

They even assume we comb and manage his golden

coat every day when the truth is that we simply

give him baths when he gets dirty.  Believe it or not,

Ryder is also a service dog in training!  When he

 gets a bit older and more mature he is going to

become a therapeutic dog visiting hospitals and

senior homes.  I cannot stress enough how

thankful I am to have come across your website

and your beautiful puppies.  Ryder has been a

blessing to our family and he brings smiles to all

 of our faces everyday.  Please enjoy some photos

 of Ryder's first year of life!

Best wishes, Katarina, Carolyn, and Gabriel

San Francisco, Ca.
We love our goldens from Shadow Mountain.  We ended up taking three dogs from the July 4th litter.  They have been nothing but a blessing to our family.  Thank you so much James for all you did in raising and breeding these wonderful dogs.  Anyone wanting a perfect golden would do right by purchasing a dog from your family.  We purchased three dogs from Simba and Princess and they have turned out to be the center of our family of four and now seven.  We look forward to keeping in touch with you all and updating you on their lives.  Take care and best wishes from Rancho Santa Margarita.
Love, Mark, Theresa, Jeffrey, Jason, Alvin, Simon, and Theodore
I hope you are enjoying the Holiday season.  I'm writing to let you know how very happy we are to have the gift of Charley.  She is absolutely wonderful!  She is much loved by all our family and friends.  We recently traveled with her to Lake Tahoe, Reno, and Yosemite Nat'l Park.  She was an excellent traveler for a young pup.  She is among the few dogs allowed in Yosemite as we put on her Therapy Dog training vest and had no problem.  She absolutely loved hiking through the trails and we had so much fun with her.  We really had a great experience getting Charley through you and we wanted you to know we appreciate you all.  I have so many photos of her and I will try to send a few.
with appreciation, Laura Fierro
Daisy has far exceeded our expectations.  She is such a great addition to our family.  All her vet appointments have been outstanding.  She adjusted very well to the change of your home to ours.  Thank you so much for giving her such an amazing start.  We hope to continue giving her a great life.  I know she will help add many family memories.  Thank you again for our precious Daisy!
The vet agreed  that he is perfect!  Ryder is loving all the attention and trying to sleep whenever he can get away from us!  We are enrolled in kindergarten at SF Puppy Prep!
Katarina/San Francisco, California
Just wanted to send you a quick note.  Haku is wonderful!!!  He has a beautiful temperament and is a dream to train.  The picture below is right after he passed his AKC S.T.A.R. Puppy Certificate.  We are hoping to train him to be a therapy dog.  I'll keep you posted on his progress.
Thank you so much for everything!  So many people have asked for my breeder information, which I have happily shared.
Tina/
Temecula, California
I would like to personally thank you for eveything you and your family have done for me. Beyond giving me my prized possession in life (Willow) you have extended kindness, warmth and hospitality to my little lady and me. I honestly cannot thank you all enough. I speak so highly to everyone I come in contact with when talking about the family I got Willow from. I can't seem to take her out of the house without getting a compliment on how beautiful and well-natured she is. It meant so much to me that you allowed me to stop by during the months before I could take her home so I could see how she was growing and how well she was being cared for. I loved being able to see my puppy and even more I loved being around your family. Over the last 5 years of my life, I have been struggling extremely with some medical problems and I started looking for a puppy as a theraputic method. It was honestly a last-stitch effort for me in many ways. Willow has been an enormous blessing in my life. She has given me drive to get out of bed on mornings when it has felt completely impossible. She is truly my best friend. She is always there for me and can always sense when my days are not the best and will remain at my side constantly. She is my life and I cannot thank you all enough for giving me her. I know that she is the way she is because I have raised her well, but there are so many things that I observe daily that are traits she has been born with, those with which I have had nothing to do. I cannot speak highly enough about the dogs you breed and how well you take care of them until they are given away and even after then! I have always felt so comfortable emailing or calling you if I have any concerns or questions about Willow, and felt confident that your advice was accurate. For all that, I thank you. You could not have chosen a better saying on your website homepage, because the truth is "whoever said money can't buy happiness, truly forgot about puppies." Thank you again and I look forward to seeing you all soon! Give eveyone my love; your wife, your girls, and especially, little Derek. 🙂
-Brooke Henley
"Thanks for raising such a well behaved and good looking golden! We couldn't be any happier. We love this little guy! We can't imagine life without him now!"

Mary and Pete Lee
Just wanted to send you a few updated pictures of our handsome Gunner. He is doing great, and has such a delightful and gentle temperament. He loves the park, the beach, and loves playing with any dog that gives him the chance. We nicknamed him "Monkey" because he is incredibly playful and clumsy growing into his long legs. 🙂
I also wanted to thank you and your wonderful family for raising such amazing and graceful Goldens. The love and care you put into raising your dogs truly shows! Gunner receives compliments almost everyday on his gorgeous looks and sweet personality. People ask all the time where we got him, so we are constantly singing your praises. We can't imagine life without him, he has brought so much joy into our lives."
"Our experience with Shadow Mountain Goldens could not have been a happier one. James and family's obvious love and care for their Goldies told us, right from the start, that our new puppy was in the finest of hands. And as it turns out, our puppy, Blue, is the joy of our lives. Healthy, happy… oh, yeah, and rambunctious as all get out! We highly recommend James and Shadow Mountain Goldens for anyone looking to
add a Golden Retriever to their lives."
Bobby Logan & Laurie Nickoloff
"James, just wanted to say Thank You to you and your family for opening up your house to us the other night. It was a tough week and seeing your puppies gave us something to look forward to. We all are so excited counting the days until we get Brooklyn. Again thank you for the great experience we are having for our new addition to our family."
Sincerely , The Neubauer Family.
"John and I could not be more pleased with Shadow Mountain Goldens!  Our puppy was so well adjusted when we got her, it was apparent she was well taken care of and loved dearly.  We are so pleased, we wouldn't think of getting our next puppy anywhere else.  Where ever we take our puppy, people comment on how beautiful she is and what a nice dog she is.  I can take some of the credit for training Abby, but I give most of the credit to James and his family for giving her a great start in life.  Thank you so much for being a great breeder and caring about your dogs the way you and your family do!"
Hello! I was just thinking about you guys and wanted to give you an update about the puppy I adopted from you during April (I think). His name is Cereal.  He was a very light golden and he still is!! (which is what I hoped for because Simba is such a stud) Cereal is 9 months old now and he's shedding like crazy. His puppy fur is shedding so my black car turned white from his fur. Cereal is very smart! He knows how to close doors, balance treats, "just touch" the treats, shake, beg, down, rollover, heel, weave through legs, stay, sit, leave it, say hi, and ring a bell to go potty outside! He's so easy to train! He LOVES food and sometimes he could get a little aggressive over his bones. His favorite treats are hotdogs and bacon strips haha! I've attached a few photos of him and how he looks currently. He kind of resembles Simba a bit, don't you think? I hope he does grow up to look just as handsome as Simba!
James
Our puppy (Emily named him Walter) is doing great and lots of fun. He gets along great with the other two dogs and he is already sleeping through the night – probably worn out from all the attention he's getting.
He had his vet check yesterday – all good – and got his microchip.
He is already comfortable in his new surroundings and he is very playful and entertaining – he has a lot of personality – and everyone on my end is very happy he is part of the family – we are all in love with the little guy.
I will send you some pictures down the road
John
Murrieta, Ca.
James, Tina & Family,
Hi Guys,
We adopted Abby in May of this year and have enjoyed every minute of it.  She's such a sweetheart and super smart.  Thank-you for allowing us to have her.  She got her first picture with Santa today.  Thanks again and happy holidays to all of you.
John & Amy Weeks & family
Rancho Cucamonga, Ca.
Hi James!
It's great to hear from you.  When we take Atticus on a walk, we're always approached by people asking where we got him from, so hopefully some will contact you soon.
I've attached a recent picture of Atticus and me on a hike. He's doing very well. He's definitely still a puppy, but his size sure doesn't show it. We continue to have a session with our trainer about every other month just to correct some habits that we see coming up, but he's been great at learning. Thanks so much again to you and your family! We'll continue to keep you updated 🙂
 —
Janet Lee
Torrance, Ca.
James,
Our dog, Votto, is doing great. He really takes after Simba… He's a very sweet dog and a great companion for our family.  I will let you know if I hear of anyone looking for a golden!
Thanks,
Jon, Lauren, and Votto
Santa Monica, Ca.